Every year the Salem Rotary Club produces a lovely calendar that they sell in order to help raise money, which they they turn around and give out in the community. This year's calendar is a real beauty, with full color photos of Salem. The photography was done all by local photographers who have some kind of association with the Salem Rotary Club.
In addition to being a lovely wall calendar, this item is also a perpetual raffle ticket for the entire year. Each week we pull a number from a box, and that number corresponds to one of the calendars. The winner gets $100, and their number is put back in the box to be eligible over and over again.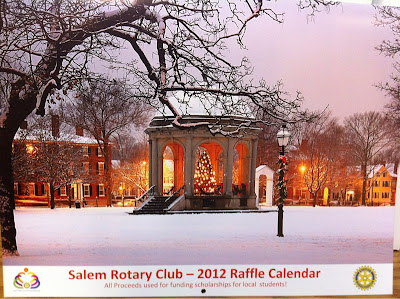 These calendars make great holiday gifts for anyone who loves Salem. If you know anyone who is from Salem, or has visited Salem and loved our fair city, please consider buying some of these as gifts. Also, if you appreciate the good works that the Salem Rotary Club does every year, consider a purchase as a way to support those good works.
If you are interested in purchasing one or many, please contact me personally, or stop by the front desk of the hotel. They are $20 each.
Thank you, and I hope to see you here.
Juli