Salem Spins is a new program created by the City of Salem as one of our "green" initiatives, and the Hawthorne Hotel is proud to be a sponsor of this program.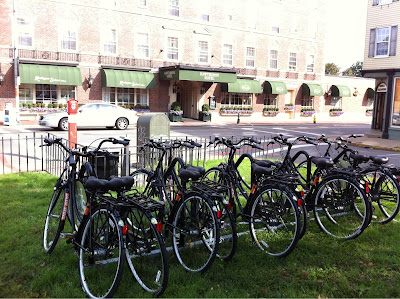 The bicycles arrived today, and are ready to be checked out. The cost is "free" which can't be beat, but you do need a few things in order to check them out. You need to be at least 18 years old, have proper identification, and a valid credit card (not debit card.)
These are brand new bikes, and they look really easy to use. I plan to take one out for a spin myself!
The use is limited to the hours between 8 am and 4:30 pm daily, and bikes may not be kept overnight. They are available on a first-come basis.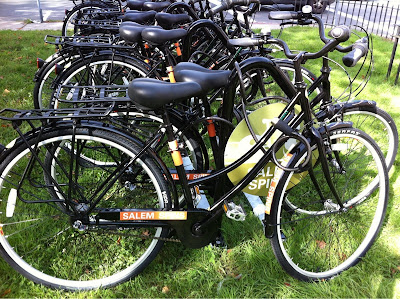 In a few weeks there will be a concrete pad installed under the bicycle rack, and next year there will be a shelter for them, but the City was so enthusiastic to get this program going that they decided to launch the initiative before all the final niceties were in place.
So, if you want to check out a bike, just take a look at the rack, select the number you want based on the seat height you think would be appropriate, and come on in to the front desk of the Hawthorne Hotel.
I hope to see you here.
Juli