As they say, life is too uncertain, eat dessert first. Here is the new addition to the summer menu in the Garden Restaurant at PEM, Heath Bar Crunch Bread Pudding. It is simply glorious, and certainly big enough to share!
The next photo is of the grilled vegetable stack with basmati rice, fresh corn and black beans. Do vegetarian meals have to be boring? Not at this restaurant!!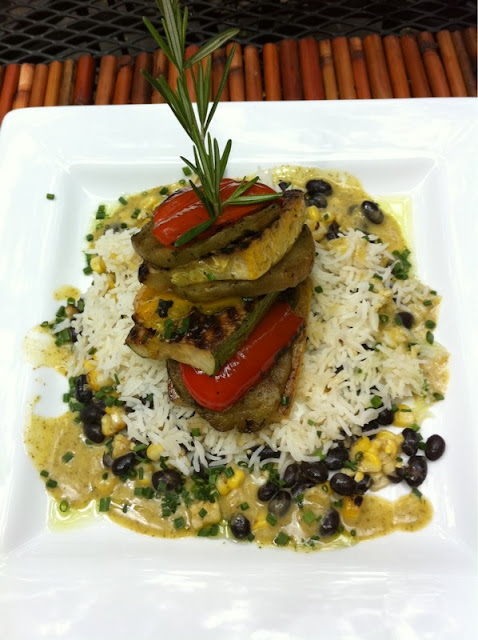 Since we are going in reverse order, here is a wonderful refreshing starter, a chilled fruit trio. This day we had watermelon gazpacho, spicy strawberry-cream, and carrot-coconut soups. Each one was even more delicious than the last.
One of the most popular new items is a shellfish trio, consisting of a mini lobster-fresh sweet corn roll, our Asian-spiced and chilled shrimp salad, and the crab terrine. Again, each one is so yummy that even if you are not normally a big eater, you will find yourself consuming each and every one.
Last but not least is a grilled, cooked-to-order flank steak served over a salad with fresh seasonal tomatoes, corn, and black beans, with a cumin-vinaigrette dressing. Super-yummy!
The Garden Restaurant is open to all, and you can easily access it from the Essex St. pedestrian mall, or through the museum. No admission necessary just to eat here. Reservations are always a great idea, and can be made by calling 978-825-4311 or 978-542-1618. The Garden is open Wednesday through Sundays, and holiday Mondays, from 11:30 am to 2:30 pm.
By the way, this is certainly the most elegant outdoor dining in Salem, with the lush Moon Garden surroundings, you will feel transported to another world.
I hope to see you here or there!
Juli