For the longest time Groom's Cakes were out of fashion. However, in the past couple of years we have noticed they are returning, and being used to showcase a special personality of the groom. This one was obvious!
I apologize for the poor quality of my photos in advance. I was not at the top of my game this evening. But you get the idea. I especially loved the strap made of fondant, and really made to look like a woven guitar strap.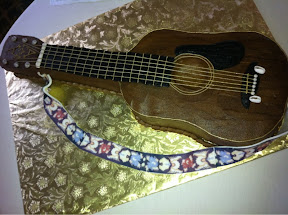 I hope you enjoy this peek at another aspect of weddings at the Hawthorne Hotel.
Juli