Sometimes the most special things are "hiding in plain sight" and we just don't see what is right in front of our noses. That is the case with this terrific list of tours that are available at the Peabody Essex Museum (PEM) http://pem.org/visit/tours -- be sure to also click on the link to their calendar -- http://pem.org/calendar/ to see what is available. You can select by particular interest level, or look at everything, and be sure to click through to get more information by clicking on the arrow to the right of each listing.
One of the very interesting aspects of PEM is that they have a whole collection of historic houses (not just the Chinese House, Yin Yu Tang located within the main museum structure, and they do offer tours of some of those houses as you can see from this listing below:
Salem Historic Houses
Explore American architecture and decorative arts in the John Ward (ca. 1684) and the Gardner-Pingree (1804) historic houses. The John Ward House is one of the area's finest surviving 17th-century buildings. With its steeply pitched gables and diamond-paned leaded windows, it is an outstanding example of First Period architecture. The Gardner-Pingree House, an elegantly proportioned Federal-style structure, is one of Salem architect Samuel McIntire's finest and best-preserved designs.
Tues-Friday, 12:30, Saturdays and Sundays 12:30 and 2:00
Crowninshield-Bentley House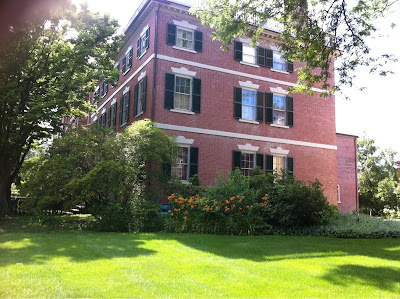 Gardner-Pingree House
I hope to see you here, or there.
Juli